2020 Ford F-Series Super Duty 
in Brunswick, ME
2020 Ford F-Series Super Duty 
For years, Ford has proven they're the best when it comes to pickup trucks. The 2020 Ford Super Duty is another testament to leading the way with reliable, powerful, safe, and efficient pickup trucks. The Super Duty line includes the F-250, F-350, and even up to the F-450, which are built to tow unbelievable payloads while effortlessly doubling as comfortable family transportation. They combine elegance and class with hard work and raw power. With three available V-8 engines and a wide array of trim levels, configurations, and driver-assistance technologies, there's a Super Duty for every use. For the very top in heavy-duty pickup trucks, swing by Yankee Ford Brunswick today. Test drive one of our new 2020 Ford Super Duty trucks and experience it for yourself.
Diverse Line of Trim Levels
The 2020 line of Ford Super Duty trucks includes the most powerful engines and best tow ratings to date. With a plethora of configurations and options, you can feel free to adapt your truck to match your lifestyle and needs. The Super Duty line includes the F-250, F-350, and F-450, with respective sizes and features. Each style has options for different cab sizes, including Regular, SuperCab, and Crew Cab. On top of that, you're able to select from different length beds, 6-3/4' and 8'. Then, you may select from single rear wheel or dual rear wheel for additional towing capacity. It doesn't end there. The Super Duty line then has the option for selecting your wheelbase from 142" all the way up to 176".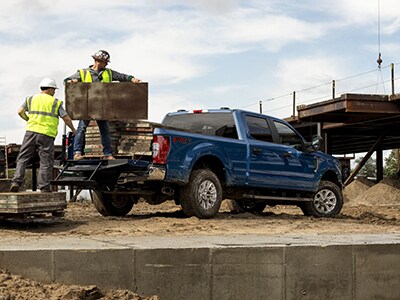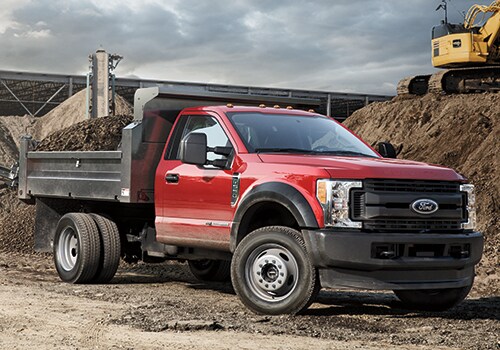 Finally, after all that customizability, you still get to select your trim level, which accounts for key features such as engine size, wheel type and size, infotainment, driver-assist functions, audio packages, seat material, and more. We'll go over the options in each model in more depth at our Brunswick, ME dealership when you're here. For some brief research, the models are as follows:
XL
XLT
LARIAT
King Ranch®
Platinum
Limited
Power, Performance, and More Power
The Ford F-250 and F-350 come standard with a 6.2L V-8 pushing out 385 horsepower with an impressive 430 lb-ft of torque. This gasoline-powered engine is attached to a 6- or 10-speed automatic transmission with either rear- or four-wheel drive. This is where the fun begins. Upgrade your model to a beefier engine such as a 7.3L V-8 raising the power up to 340 and 475 lb-ft of torque, or the Power Stroke diesel 6.7L V-8 with 475hp and a ridiculous, best-in-class torque of 1050 lb-ft. If you plan on being off-road frequently, add on the Tremor off-road package that includes a lift kit, stronger tires, and other upgrades. The Super Duty is designed to be able to tow heavy loads without ever impacting ride comfort and stability in the cabin.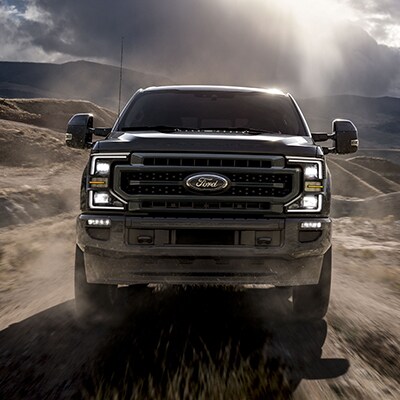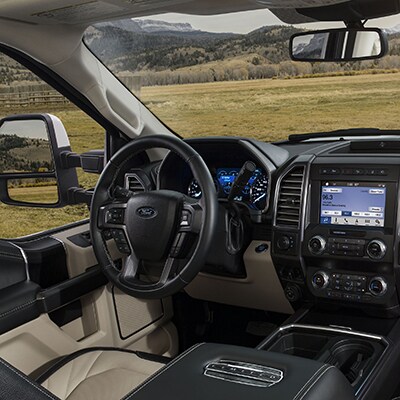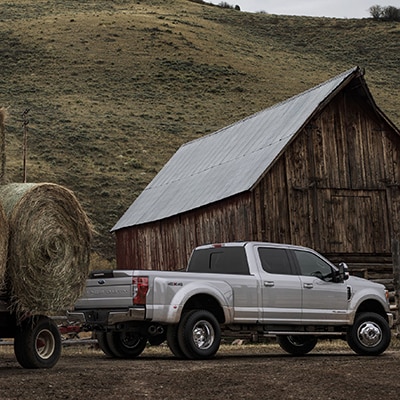 Creature Comforts, Interior, and Infotainment
Just because you're using your Super Duty to tow a large boat or building supplies doesn't mean you have to be uncomfortable or bored while you drive. The 2020 Super Duty comes with a litany of features such as leather seat options, a 10-speaker audio system by Bang & Olufsen, plenty of accessory outlets, driver-assistance features, and more. With all the available options for customizing your ride to suit your style, it's better to see them for yourself. Visit Yankee Ford Brunswick today and take a look around. Our helpful team will be able to answer all your questions and clear up any concerns you may have on your new Ford Super Duty. Whether you're regularly towing and transporting heavy goods or taking the boat down to the lake with the family, the Super Duty is the end-all-be-all for heavy-duty pickup trucks.